At 7:30 a.m. on October 1, local time, 53 Postgraduates of 2019 from the International Joint Graduate School of Sumei National Agricultural University of Ukraine held a flag raising ceremony in front of the main building of the school to sing for the motherland and celebrate the 70th birthday of new China.
Under the leadership of the temporary Party branch and the class committee, all the overseas students actively participated in the rehearsal and overcame various difficulties in time, place and equipment, and showed the dedication, diligence, erudite and enterprising spirit of Chinese students to the whole school. Holding the five-star red flag made by themselves, they sang the song "I and my motherland" affectionately, and expressed the childlike heart of overseas students to celebrate the birthday of the great motherland with their affectionate singing and uplifting spirit.
Teachers and students of the National Agricultural University and Su Mei attached great importance to the activities. At 13:00 p.m., vice president Valerii zhmailov, vice president Yuri Danko, vice president mykola Sokolov and relevant teachers of Sumei National Agricultural University attended the National Day party specially held for Chinese students. Vice President Valerii zhmailov delivered a passionate speech, expressing his sincere wishes for the 70th birthday of new China, wishing China more prosperity in the future under the leadership of the Communist Party of China. At the same time, he also wished the Chinese students studying here happy holidays and learning progress.
Our foreign students in Ukraine have said that they are very excited to sing about the glorious history of our motherland in such a way in foreign countries. In the future, they will be more dedicated and diligent, meet new challenges with practical actions and outstanding achievements, and make contributions to the realization of the Chinese dream of the great rejuvenation of the Chinese nation!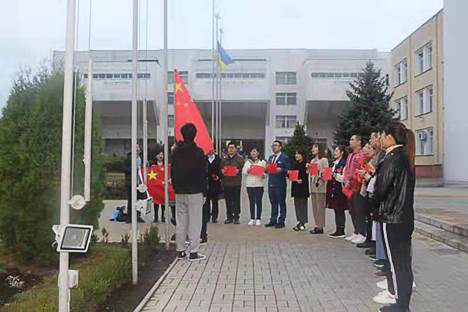 Flag raising ceremony
Sing for the motherland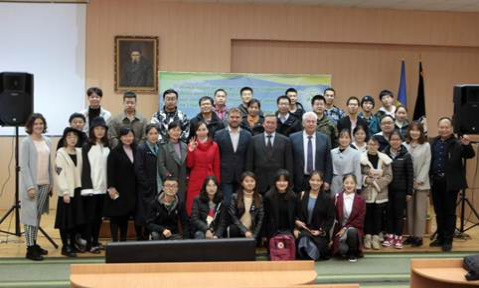 Group photo of teachers and students