Inorder to thoroughly implement General Secretary Xi Jinping's importantexposition on "Promote as one, do not dare to corrupt, do not want to becorrupt", earnestly implement the spirit of the Fourth Plenary Session of the19th Central Commission for Discipline Inspection, the 5th Plenary Session ofthe Tenth Provincial Commission for Discipline Inspection, the ProvincialCommittee of Higher Education Work Committee, and Provincial Education Inaccordance with the spirit of the "Notice on Printing and Distributing the WorkPlan for Promoting Reform by Cases in the Education System" (Yu Jiao Dang[2020] No. 95), the Party Group of the Department The "ImplementationPlan" (School Party Character [2020] No. 35) requires that the School ofInternational Education launched a learning activity of "Promoting Reformwith Cases" at 9:30 am on August 10, 2020 in the second conference room onthe 9th floor of the administration building. Party branch secretary ZhangPing, Dean Feng Xia, Deputy Secretary and Deputy Dean Wu Yanbing and all partymembers participated in the learning activity. The meeting was chaired by ZhangPing, secretary of the Party branch.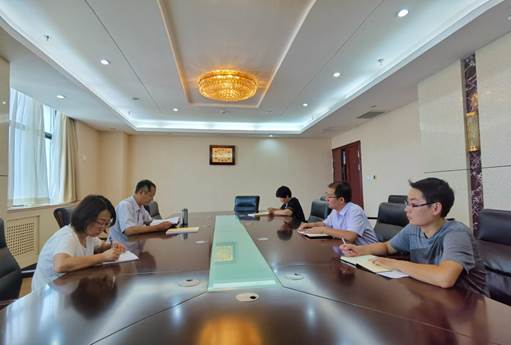 At thestudy meeting, first, Secretary Zhang announced the "Implementation Planof the Committee of the Henan Institute of Science and Technology of theCommunist Party of China on Concentrating the Work of Promoting Reform withCases." Then learned relevant cases. Finally, Secretary Zhang asked allparty members to study and implement Xi Jinping's thoughts on socialism withChinese characteristics in the new era as an important content and primary taskof current special education. It is necessary to use typical cases as negativeteaching materials, strictly abide by the party's political discipline andrules, continuously enhance the "four consciousnesses" and strengthenthe "four self-confidence." Further deepen the study and discussion,connect with one's own reality, learn lessons, take a warning, and be trulystrict and practical in thinking, work, and style.
At thesame time, we must devote ourselves to our work with a more truth-seeking,pragmatic, and pioneering spirit. The College of International Education is anewly independent unit, and various tasks urgently need to be carried out andinnovated. We are facing new problems and challenges. Therefore, we muststrengthen study, learn from books, learn from comrades, and quickly completethe job transition, and we must shoulder our responsibilities and beliefs.Especially in the construction of a clean government, it is necessary to purifythe political ecology in accordance with organizational requirements, abide byorganizational discipline, earnestly perform work responsibilities, completevarious tasks assigned by the school, and make contributions to the reform anddevelopment of the school.